Contact Us
If there's anything we can do for you, please get in touch with us, and we'll get back to you right away. If you are requesting emergency heat or air conditioning repair service after 5 pm Monday - Friday or on a weekend or holiday, please call the office at 336-454-5786 and leave a voicemail. A service technician checks messages until around 10 pm every evening and will return your call and assist you.
We look forward to hearing from you!
Absolute Comfort Heating & Cooling, Inc.
205 W. Main Street
Jamestown, NC 27282
Phone: 336-454-5786
Fax: 336-454-5887
E-mail: info@yourabsolutecomfort.com
Hours: Monday – Friday 8 am to 5 pm
Directions:
From Greensboro, take High Point Rd. or Guilford College Rd to Jamestown. Go towards High Point. Absolute Comfort is directly across the street from Jamestown Elementary School. From High Point, come to Jamestown on Greensboro Rd. Again, Absolute Comfort is across the street from Jamestown Elementary School.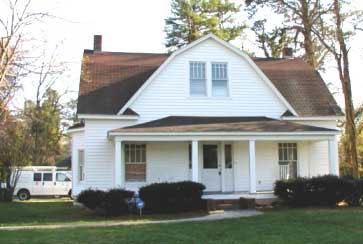 Located in this lovely 1920 home in Historic Jamestown, directly across the street from Jamestown Elementary School